conservation easement(us)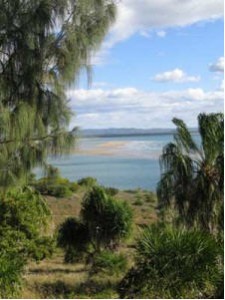 A conservation easement is created to help conserve or protect the environment, open space, a building, or a view that is of particular interest. The purpose of such a limitation or restriction includes: "(1) retaining or protecting natural, scenic, or open-space values of real property. (2) assuring its availability for agriculture, forest, recreational, or open-space use. (3) protecting natural resources; maintaining or enhancing air or water quality. (4) preserving the historical, architectural, archaeological, or cultural aspects of real property [Uniform Conservation Easement Act § 1(1)]", 3 Powell on Real Property (Albany, NY: 1997- ), § 34A.01.
Depending on the type of limitation or restriction such an easement may be called a 'open space easement', a 'development rights easement', an 'air rights easement', or a 'preservation easement' when the intention is to preserve an historic building.
Such easements are usually created by a conveyance of a right over land to a government or non-profit entity, either voluntarily or subsequent to condemnation. Such a right is a nonpossessory right over real property and is usually an easement in gross as there is no dominant estate that is benefited by the easement. The easement may be granted for a fixed term or even in perpetuity. Because, in common law, an easement in gross is not enforceable upon an assignment of the land affected, a conservation easement is normally created and protected by statute.
A conservation easement is a form of restrictive covenant or negative easement.
A conservation easement may also be considered as a form of restrictive covenant or a negative easement. However, although, unlike either, there is normally no dominant tenement, in that respect it may be considered not to be a true easement.
A taxpayer who makes a "charitable contribution" is entitled to a deduction for income tax purposes. This includes a "qualified conservation contribution" which "means a contribution—(A) of a qualified real property interest, (B) to a qualified organization, (C) exclusively for conservation purposes", 26 USCA, Internal Revenue Code, § 170(h); Treasury Regulation § 1.170A-14). A qualified property interest means [more].
Sometimes called a 'conservation servitude'.  See also façade easement, scenic easement.
© Delta Alpha Publishing
Bibliographical references for Conservation Easement:
David J. Dietrich. Conservation Easements. Probate & Property, 43–8 (Nov/Dec 1998).
McLaughlin, Nancy A. & Benjamin Machlis Amending and Terminating Perpetual Conservation Easements. Probate & Property, 52–6 (Jul/Aug 2009).
Nancy A. McLaughlin. Internal Revenue Code Section 170(h), National Standards for Federally Subsidized Conservation Easements, 45 Real Prop. Tr. & Est. L.J. 473 (Fall 2010), 46 Real Prop. Tr. & Est. L.J. 3 (Spring 2011), Appendix A 'General Enabling Statutes'.
Adam E. Draper. Conservation Easements: Now More Than Ever—Overcoming Obstacles to Protect Private Lands, 34 Envtl. L. 247 (2004).
Martha W. Jordan. Valuation of Preservation Easements After Whitehouse Hotel Limited Partnership. The Appraisal Journal (Fall 2009).
Land Trust Alliance. Appraising Easements: Guidelines for Valuation of Land Conservation and Historic Preservation Easements (Washington. DC: 3rd ed. 1999).
E. Byers & K. Marchetti Ponte. The Conservation Easement Handbook (Washington, DC: 2nd ed. 2005, with CD-ROM).
J.J. Delaney et al. Handling the Land Use Case: Land Use Law, Practice & Forms. St. Paul, MN: 2007), Appendix G1.
D.J. Dietrich & C. Dietrich. Conservation Easements: Tax and Real Estate Planning for Landowners and Advisors (Chicago: 2011, with CD-ROM).
J.A. Gustanski & R.H. Squires. Protecting the Land: Conservations Past, Present, and the Future (Washington, DC: 2000).
Rathkopf's The Law of Zoning and Planning (St. Paul, MN: Loose-leaf), Ch. 82, III. 'Conservation Easements'.
 Note (conservation easement):
A more detailed definition of conservation easement and other forms of property easement are available in Real Estate Defined.