Yield Spread Premium
The term 'Yield Spread Premium' is derived from the Dodd-Frank Wall Street Reform and Consumer Protection Act of 2010 (USA). Yield Spread Premium is a fee or commission paid by a lender to a mortgage loan originator (mortgage broker or retail bank) in exchange for a commitment by a borrower to pay a higher interest rate. A similar fee may be paid by a lender to induce a broker to introduce a borrower to a particular program, such as a loan for a term or rate that is more beneficial to the lender (but may less suitable or less competitive to a loan available from another lender). For example, the loan originator or mortgage broker may inform the borrower that he can obtain a loan at 5.75% (instead of a market rate of 4.95% that may be available to a more credit-worthy customer) and, if the loan closes, the broker is paid a fee by the lender of 1% of the loan amount. Alternatively, discount points may be charged by the lender, i.e. the actual amount advanced is reduced from the loan principal set out in the loan documentation, thereby increasing the true interest rate. A Yield Spread Premium is commonly used to introduce a borrower who might otherwise have difficulty in qualifying for a loan. Any fee or commission paid to a broker by the lender should be set out in a good-faith estimate of the closing costs Including any yield spread premium) when the loan is offered (although in some cases it may be difficult for the borrower to calculate) and declared on the HUD-1 settlement statement submitted to the borrower before the loan closing (Real Estate Settlement Procedures Act of 1974 (RESPA), Sec. 5 (12 USCA § 2604); HUD Special Information Booklet (24 CFR § 3500.6)). Also, for most consumer credit loans that are covered by the 'Truth-in-Lending Act', such fees must be disclosed.
Yield Spread Premium and Dodd-Frank
Since 2010, for any residential mortgage loan, "no mortgage originator shall receive from any person and no person shall pay to a mortgage originator, directly or indirectly, compensation that varies based on the terms of the loan (other than the amount of the principal)", Truth-in-Lending Act, Chapter 2, Sec. 129B, as inserted by Dodd-Frank Wall Street Reform and Consumer Protection Act of 2010, Sec. 1403 (15 USCA §1639b).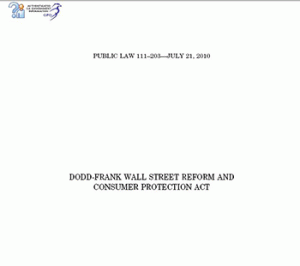 In addition, for any "federally related mortgage loan" for residential real property (including individual units of condominiums and cooperatives) designed principally for the occupancy of from one to four families, it is illegal to pay or receive "any fee, kickback, or thing of value" as part of any "real estate settlement service" (which is very broadly defined to include loan processing, closing or settlement of the loan and most related services). Also, splitting or taking any part of such a fee is prohibited (RESPA, Sec. 8 (12 USCA § 2607)). A yield spread premium is sometimes called a 'rate participation fee', 'service release fee' or 'par-plus pricing'.  See also annual percentage rate (APR), sub-prime loan/subprime mortgage.
Login to Real Estate Defined and select the tab "Statutes' for 'Significant U.S. Federal Legislation and Regulations' to find more about the Dodd-Frank Wall Street Reform and Consumer Protection Act of 2010.
(Yield Spread Premium)